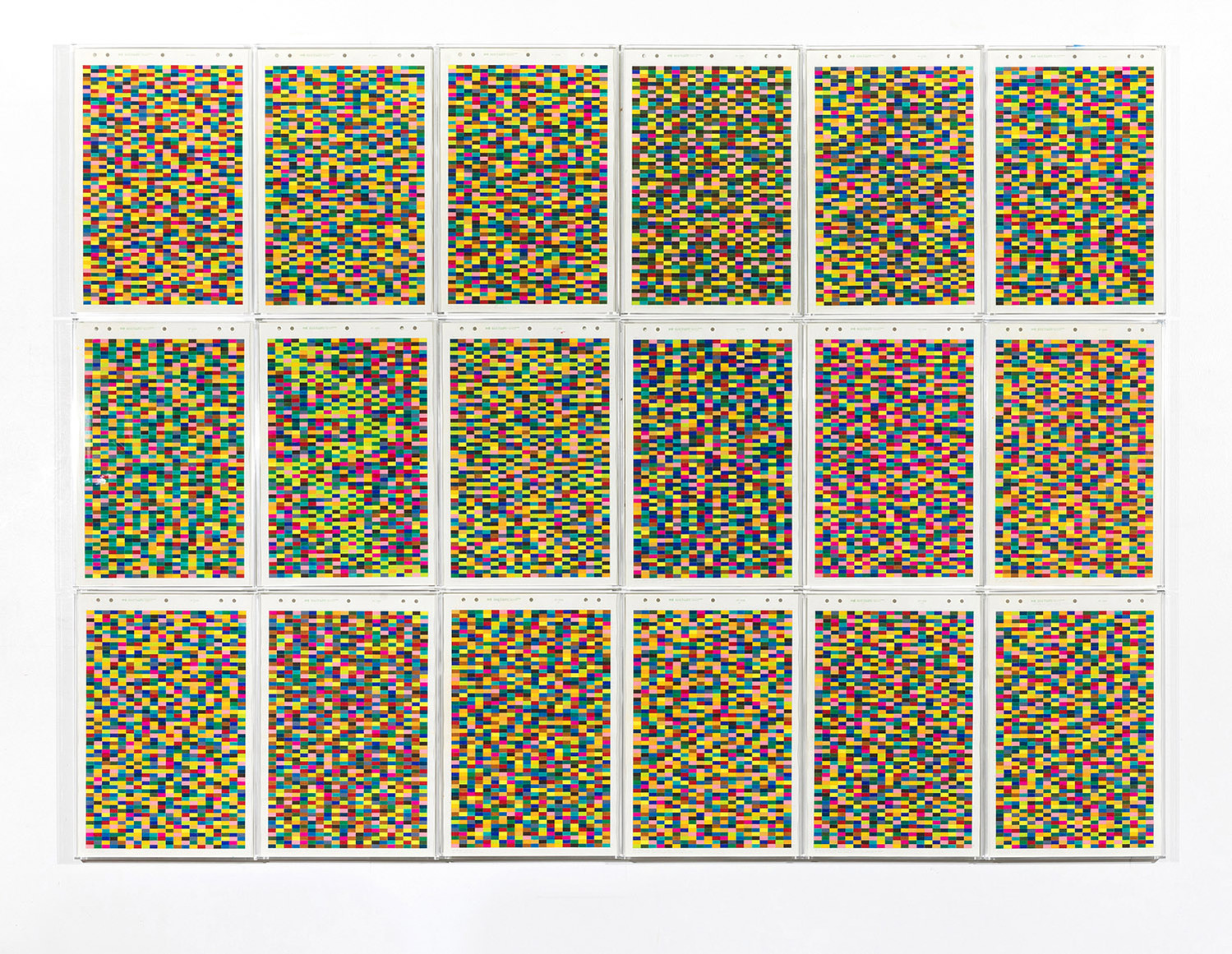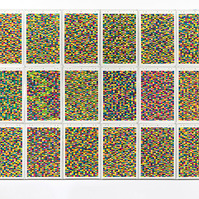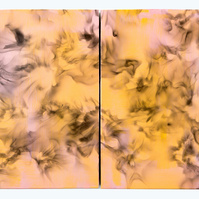 Concept Rendering for Gold Strand Piece Installation
Each Strand: Oil on Linen, Wall Mounted, Approx. 12 x 1"
Information coming soon.
Untitled Grid Piece / Color Study (5.16.08 - 9.14.09)
Gouache on Paper, 18 Panels
51 X 69 1/2" Overall, Dimensions Variable
2009
In the tradition of the color grid explored by Mondrian, Ellsworth Kelly, Sol Lewitt, et al. Untitled Grid Piece / Color Study (5.16.08 - 9.14.09) was created to examine color combinations in both random and systematic manners.
In each individual panel there is a dictating color which creates a pattern within that panel. This dictating color does not repeat as a dictating color in subsequent panels and each pattern is unique.
All 18 panels however share the same color palette. Colors applied in a random, process-oriented, mediative manner are disturbed or offset by the cognitive exercise of utilizing a dictating color to produce a systematic approach and non-repeating patterns.
According to the Kabbalah "Sefer Yetzirah," the letters of the Hebrew Alphabet, are the building blocks of the universe. Later Kabbalistic works explain that there is a connection between objects and ideas that have the same Gematria (numerical equivalent), or other letter connections. In some way, anything that equals 18 has a connection to Chai/Life. 18 panels were chosen for this significance.
Broodthaers
Mussels, Oil, Gouache, Bole, Ink, Acrylic, on Linen on Board

12 1/16 x 9"
2020
From the Series "Mussels 8.13 - 8.16.20," Georgica E.H.
"Moule" - (v) To Mold, (n) Mussel "Cast" (v), (n)
This work is from the artist's recent series of mussel paintings inspired by correspondences and writings of the sea, especially verses from a postcard to the artist and poet Marcel Broodthaers, which inspired other titled works from this series. All works made with mussel shells collected on the artist's long walks during the pandemic lockdown of 2019.
CLICK HERE TO READ MORE ABOUT MARCEL BROODTHAERS' MUSSEL PAINTINGS
Inscribed on the frame, to be read in the round: "I / Found / Romance / In Him"
Text colors are: Red, Yellow, Black of the Belgian Flag
In Artist's Brass Frame
Smoke Painting 3.4.14 Diptych
Smoke, Oil on Canvas
18 x 28 7/16" Overall
2014
This multicolor smoke painting is from the first series that the artist created in Los Angeles, CA inspired by the city's neon skies. The work is from a very limited series and marks the transition out of monochromatic smoke paintings into multicolor works.